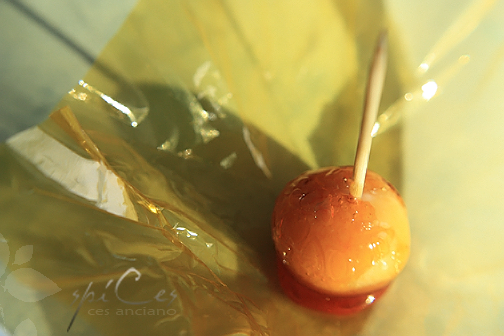 ….i just can't help posting this. this was my initial idea for Lasang Pinoy, Sundays Eye CANDY theme. As luck would have it, we were only able to visit the Filipino store the afternoon after i posted he announcement. so i had to make do with what i had on hand…fruit-tella. this yema is the ultimate Pinoy sweet confection made with creamy milk and sugar, lots of 'em, inside and out! now the out is the hardest to pull off, the success of sugar candies depends on so many factors…
Candies are formed by adding sugar to water, called a sugar solution, and boiling the mixture to a codified temperature or density that ranges from 215 to 356 degrees F, measured with a Candy Thermometer. This high heat dissolves the sugar, evaporates the water and breaks apart the sugar's molecules. As a result, you get a greater concentration of the sugar, eventually reaching a supersaturation of the sugar molecules in the water.
..and that is what i am still reluctant to get my hands on. so i settled with the next possible option, get store bought yema's! yum!